FIND NON-TOXIC PRODUCTS
Click below to see all of my product guides!
LET'S SEE THEM!
TRYING TO CONCEIVE?
Natural Ways to Help Boost Fertility
GET THE GUIDE
COMING OFF BIRTH CONTROL?
Natural Ways to Balance Your Hormones After Birth Control
GET THE GUIDE
Southard Living
A look at my journey to a non-toxic lifestyle and becoming everyone's "hippie friend" while keepin' it real!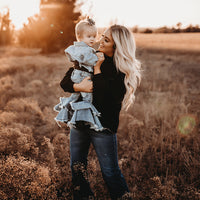 Hi, I'm Jessie!
What is Southard Living anyway? Well, simply put its just how The Southard's role in regards to our lifestyle! We have made the switch to a non-toxic lifestyle and I continue to educate myself on a daily basis. I love to share my knowledge to hopefully make a positive impact! From cleaning supplies, EMF's, food, birth, pregnancy, etc...I hopefully will have some insight for you!
What made us make the switch? Harlow. Our first baby! The thought of harming her in any way because of our choices just wasn't an option. She is what lead me on my journey!
TESTIMONIALS
I will seriously buy every single guide! They are THE BEST!

Reese
I was so overwhelmed before. Now I'm not! I am confident!

Kim
Love it! So simple. So easy. To the point. Thank you!

Angie